Sport Review 2014: Second half action
Comments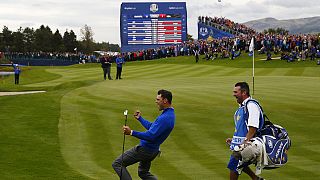 We continue our review of 2014 with the final six months of the year, which was just as exciting as the first half.
Die Nationalmannschaft
July saw Germany win their fourth world cup title after triumphs in 1954, 1974 and 1990.
Having beaten last 16 debutants Algeria they saw off France in the quarters.
Their semi-final humiliation of Brazil ended the hosts chances of a home victory.
Die Nationalmannschaft were exceptional throughout this edition and Phillipe Lahm and company swept aside all who got in their way, although extra time was needed to beat Argentina in the final.
Nonetheless it was a deserved World Cup title and a first for a European team in the Americas.
Farah comes good in Zurich
August 2014 belonged to Mo Farah.
During the European Athletics Championships in Zurich, the British long-distance runner put a mediocre season behind him to win gold in both the 5 000 and 10 000 metres, a feat he achieved for the third consecutive major tournament.
Europe again
Christmas came early for European golf fans.
The present was a neatly-wrapped European victory over the US at the 40th edition of the Ryder Cup at Gleneagles in Scotland in September.
Unbeaten Justin Rose took over from Ian Poulter as Europe's talisman winning four out of a possible five points to help Paul Mcginley's 12-man team cruise to a comfortable victory.
Welshman Jamie Donaldson sealed the deal to give Europe a third straight title and eighth from the past ten editions.
It gave the Americans quite the Ryder Cup headache, once again.
The one-man show
Marc Marquez's second world title in as many years in motorcycling's elite class appeared to be a proverbial walk in the park.
The Spaniard never had any serious challenger and finished with 13 wins in 18 races, surpassing the record set by Australian Mick Doohan in '97.
Ironically, the champagne corks popped for a second place finish in Japan on October 12th, when he secured the Moto GP world title early.
The Swiss maestro
Our sportsman of November is Roger Federer.
The 33-year-old Swiss tennis player crowned his season in November in style.
He reached the final of ATP World Tour Finals in London, but was forced to withdraw due to a back injury.
However, a few days later, he became world champion in team tennis by helping Switzerland win the Davis Cup for their maiden title.
It was the only significant trophy to have previously eluded the Swiss maestro.
Well I'm off. Maybe I'll win also this time."
Golden balls
It's a oong shot but the Ballon d'Or trophy could well might be lifted by a goalkeeper for the first time in 51 years.
At the begining of December we FIFA unveiled the Ballon d'Or shortlist with habitual contenders Lionel Messi and Ronaldo joined by Bayern Munich shotstopper Manuel Neuer.
Neuer was a key member of the Germany team that won the 2014 World Cup.
He even produced a crucial save against Messi that for many was a crucial turning point in the match.
Sport Review 2014: A stunning first half
Sport Review of 2014: Top of the flops

Sport Review of 2014: Top of the pops