Sport Review of 2014: Top of the flops
Comments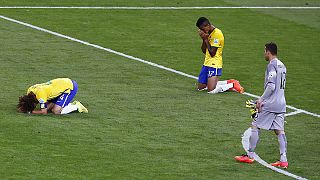 We now take a look at some of the flops for 2014, bearing in mind that not all of the athletes' failures were by any fault of their own…however, some definitely were.
10. A knee injury prevents Lindsey Vonn from adding to her Olympic gold medal count as she misses the Sochi Winter Olympics.
9. There were more spills than thrills for Chris Froome whose hopes of a second straight Tour de France title came crashing down on stage five.
8. Colombia star Rademal Falcao loses the race to be fit in time for the Brazil World Cup with an ACL injury.
7. Tiger Woods has another year to forget as he struggles with injury and form and fails to win in nine appearances.
6. Italian glamour team Ferrari suffers its worst season in Formula One in 22 years with just two podium finishes and not a single race victory.
5. There is no three-peat for the Miami Heat who lose the NBA championship match to the Spurs – They also lose star player Le Bron James to injury and then the Cleveland Cavaliers.
4. Title holders Spain are eliminated at the group stage of the football World Cup, spelling the end of an unprecedented era of dominance.
3. Spain again in pain – They had such high hopes of a home victory at the basketball World Cup, but neighbours France have other ideas and soundly beat them in the last eight.
2. Russia's dream of an Olympic hockey medal on home ice melted away with a stinging 3-1 defeat to Finland in the quarter-finals.
1. Brazil's World Cup title hopes on home soil are ended in utter humiliation – a 7-1 defeat by eventually champions Germany in the semis.
Sport Review 2014: A stunning first half
Sport Review 2014: Second half action
Sport Review of 2014: Top of the pops