Peshawar pupils fear a return to school as mourning period ends
Comments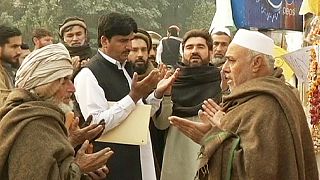 Peshawar pupils fear a return to school as mourning period ends
Children are preparing to return to school following the massacre of 132 pupils by Taliban militants in Peshawar, Pakistan.
The three days of mourning announced following the slaughter ends on Saturday.
Many fear a return to education.
One pupil summed up the feelings: "Some students here say they don't want to study and don't want to go to school. They say the terrorists will come again and will kill us all. A lot of students lost their lives at the Army Public School and those that survived are very scared to return."
Security forces in Peshawar are currently coordinating plans in order to ensure all the schools in the region are protected and parents and children feel secure.