Pakistanis protest against Taliban as army intensifies offensive in north-west
Comments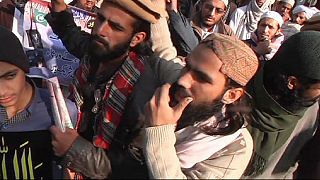 In a sign the Taliban's school massacre may have brought about a change in attitudes to the Islamic extremists in Pakistan there have been big anti-Taliban demonstration in several cities.
While rejection of terrorism seems stronger than before, some banners indicated the USA and India were still considered fair game , even if the revulsion against the Taliban has gathered strength since the bloodbath in Peshawar.
"Today we are protesting that innocent children were martyred in the Peshawar School. We strongly condemn this incident," said one demonstrator.
While prayers for the victims were conducted the army reported 77 Taliban killed in a sweeping air offensive in the north-west and on the Afghan border, backed with ground forces, with more being hunted.
"Only today, or yesterday there have been several encounters and several militants have been killed in Karachi and parts of Punjab also, so that shows actually that the government and the military is showing greater determination to clear the entire country from the militants, whether they can succeed or not, one cannot be sure", said analyst and journalist Zahid Hussain.
Taliban commander Umar Mansoor has been identified as the architect of the Peshawar assault. He has claimed it was in retaliation for the current army campaign, and has warned he and his men will not hesitate "to take revenge on innocents".
He claims the army has been killing women and children in Taliban area, and carrying out what he called "extrajudicial killings".
Privately, several security officials have indicated Pakistan's courts are either too afraid or corrupt to convict arrested terrorists. "You risk your life to catch terrorists, and the courts always release them. If you kill them then they don't come back", said one.