Pakistan begins investigations into school massacre
Comments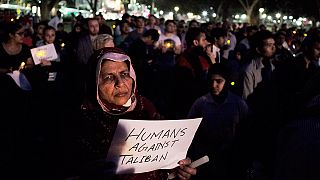 Investigators in Pakistan have begun to piece together the evidence in one of the worst terrorist attacks in the country.
The Inspector General of Khyber Pakhtunk HWA Province said that initial investigations into the Peshawar school massacre, in which 148 people were killed by Taliban insurgents, extend beyond the border.
"We are trying to find out their facilitators there. We are trying to find out their sleeper cell, wherever they are, in Peshawar or anywhere else. I am sure, the way we have started this crime scene investigation, we will, God willing, we will find out," announced the Inspector General, Nasir Durrani.
The government is under pressure to get tough on Taliban extremism. In response they lifted an unofficial moratorium on the death penalty in terrorism related cases.
The attack appears to have strengthened the resolve to fight Taliban insurgents as protests sprung up around the country calling for justice for the victims of the massacre.