Colombian government welcomes FARC truce
Comments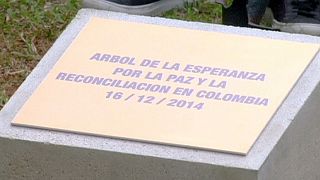 Colombia's FARC rebels have annonced an open-ended truce.
It comes from Cuba where they have been holding peace talks with the government. It is the first time they have not put a time limit on a cessation of hostilities.
The government welcomed the ceasefire but rejected the FARC's demands for independent observers of the truce.
The FARC rebels added that the ceasefire due to begin on Saturday would be cancelled immediately if they were attacked.
The peace talks which began in 2012 aim to solve the conflict which has raged since the 1960s.
With several aspects of the peace deal already signed talks are now at a make-or-break stage on issues of demobilisation and compensation for victims.