Colombia's FARC fighters call unlimited truce and say it's 'now or never' for a full peace deal
Comments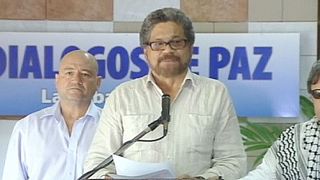 The Colombian guerrilla organisation the FARC has announced an open-ended truce, the first time it has put no time limit on a cessation of hostilities.
The FARC has also for the first time appealed for monitoring by either the UN, Red Cross, intergovernmental regional bodies, or the Catholic church.
"This unilateral ceasefire, which we hope will be prolonged in time, will only end if it is 
determined that our guerrilla structures have been the object of an attack by the military," said FARC representative Ivan Marquez.
At peace talks in Cuba, which have been ongoing since 2012, FARC and government delegates were joined by victims of the conflict, which has raged since the 1960s, to plant a symbolic tree of reconciliation.
"As a Colombian I am proud of this tree, which represents a new Colombia where life is respected, and it renews my hope, thank you," said victim Mauricion Armitage.
With several aspects of the peace deal already signed talks are now at a make-or-break stage on issues of demobilisation and compensation for victims. FARC says it is "now or never" to conclude the deal.
For the moment the government has made no comment on the truce, which the FARC says it wants to lead to an armistice.