Turkish court postpones 'attempted coup' trial of 35 football fans
Comments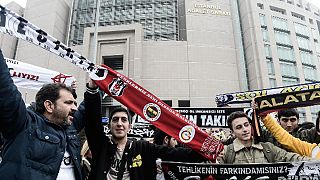 Members of the Carsi supporter group gathered outside an Istanbul court in a show of solidarity on Tuesday ahead of the start of a trial of 35 football fans accused of attempting to stage a coup.
But within minutes the supporters' Twitter page announced the court had postponed the hearing until April 2 and lifted a foreign travel ban on the 35.
Carsi supporters are an activist group which also backs the Besiktas football team.
Prosecuters are seeking life sentences for all 35 Carsi defendants.
It is alleged they helped organise protests against the demolition of Gezi park, which grew into a major challenge to the then-Prime Minister Recep Tayyip Erdogan.
The indictment accuses the football fans of seeking to occupy Erdogan's Istanbul office near the Besiktas stadium, "to create the appearance that a weakness of authority had emerged in the country", and of drawing foreign media to the protest area.
Opposition and rights groups say the trial is an abuse of the justice system by a government bent on revenge.