Russian rouble rebounds slightly but remains volatile
Comments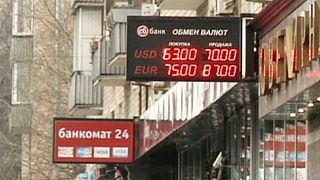 After hitting an all-time low on Wednesday morning the Russian rouble has rebounded slightly.
The Finance Ministry began selling its foreign currency reserves, and the rouble traded at 84 against the euro, a rise of 3 percent. It comes after a move to raise interest rates to 17 percent on Tuesday.
Apple has stopped online sales in Russia saying the rouble's value was too volatile to set prices.
The mood in Moscow appears gloomy.
"Prices are increasing all the time," said Moscow resident Elena. "I can't say what the effects on my life will be, but the process is painful and is making people distressed and concerned. I have no confidence. That is all I can feel and all I can say," she explained.
European shares also felt the effects, dropping in early trading. The FTSEurofirst 300 index of top European shares was down 0.9 percent at 1,303.21 points.
A combination of Western sanctions and a drop in oil prices have contributed to the rouble's meltdown.
Hydrocarbons account for two-thirds of exports. The oil price has dropped by almost a half in the past six months, dragging the rouble down with it.
The EU has agreed to widen its ban on investment in Crimea to target Russian Black Sea oil and gas exploration. They are set to adopt the measures at a summit later this week.