Palestinian Statehood: the road ahead
Comments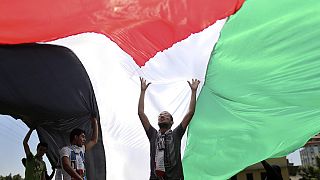 In 2014 one country in Europe made a decision which could have a significant impact on the Middle East. Sweden recognised the Palestinian state. It was the only country to do so in 2014. Of the 50 countries worldwide that don't recognise Palestine 25 are in Europe.
"We do believe that this will inspire others, we hope to inject some new dynamic into the prospects for renewed peace talks," said Margot Wallstrom Sweden's Foreign Minister.
Parliaments in Spain, Britain, France and Ireland have, since that decision by lawmakers in Sweden in October followed suit to an extent. There have been a series of non-binding votes in favour of the recognition of Palestine. The moves show a growing impatience with the stalled peace process. The Danish government is set to vote in January.
The number of individual countries across the globe recognising Palestine statehood has grown gradually over the past decades, Sweden's move has increased the total to 135.
The most significant shift of recent time came two years ago when the 193-member United Nations General Assembly voted to upgrade Palestine's status to non-member observer status. Over two thirds of the world's countries approved the motion.
Israel and other countries who object maintain a Palestinian state can only be determined through direct negotiations between Israel and the Palestinian Authority.
That was underlined on Tuesday by former Israeli President Shimon Peres during a visit to Paris.
"There is a need and time to have a Palestinian State. I think it will be better to achieve it through an agreement and not by an imposition," he said.
Such a state, believes the Palestinian Authority should be based on the borders before Israel's capture of the West Bank and East Jerusalem.
That target seems difficult given Israel's policy of enlarging its settlements since the collapse of peace talks in April.
One course of action could be to accuse Israel of war crimes at the International Criminal Court. That was outlined at the ICC's headquarters on Monday when Palestinian envoy Riyad Mansour spoke. The Palestinian Authority is set to join the ICC.
According to the Rome Statue which established the ICC in 1998, "an occupying power's direct or indirect transfer of its civilian population into the territory it occupies is a war crime."