FARC rebels announce unilateral ceasefire in South America's longest war
Comments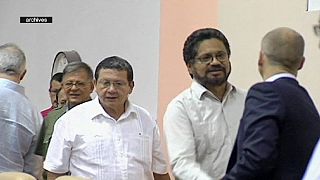 Colombia's Marxist Revolutionary Armed Forces or FARC rebels, who are currently engaged in peace talks with the government, have declared an indefinite unilateral ceasefire.
The announcement was made via its website where the statement stressed the truce would only last providing there was no attack from Colombian government troops.
The proviso casts doubt on the viability of the ceasefire since Bogota has consistently refused to agree to a reciprocal arrangement throughout the peace talks which began two years ago.
However FARC has demanded independent confirmation of the truce.
Without a ceasefire, FARC and its smaller National Liberation Army (ELN) counterpart, continue in turn to attack government troops and oil pipelines which carry the Andean country's most valuable export to the coast for export.
Major advances are however being made in Cuba where the talks are being held.
So far they are said to have achieved agreement on about half of the agenda, with deals on land reform, political participation and the ending of the drugs trade which FARC uses to fund itself.
Earlier this week a Tree of Peace was planted in a gesture to help draw a line under a conflict which has killed more than 200,000.