Worldwide condemnation over Taliban murder of school children
Comments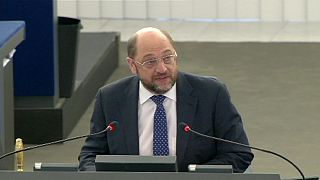 There has been swift and harsh worldwide condemnation of the Taliban murder of school children in Pakistan.
The Secretary-General of the United Nations, Ban Ki-moon, called it 'blood-curdling' with no possible justification.
Turkey has declared a day of national mourning, and there was also uncompromising reaction from the President of the European Union Parliament, Martin Schulz:
"This crime is abominable and cowardly, and leaves us stunned and speechless, showing us once more the inhuman attitude of the Taliban, their inhuman idealogy, their remorseless fanaticism. And what surely shocks us in particular, is the that they don't even hesitate to murder children".
Speaking from London, US Secretary of State John Kerry, offered Paksitan full support in its fight against the Taliban:
"This act of terror angers and shakes all people of conscience, and we condemn it in the strongest possible terms. The perpetrators must be brought to justice and we pledge our full support to the people of Pakistan in this difficult hour, and we will help them in any way we possibly can."
Pakistani teenager Malala Yousafzai, shot in the head by the Taliban in 2012 because she dared to go to school, said she was heartbroken over the attack. She was a joint winner of this year's
Nobel Peace Prize along with India's Kailash Satyarthi, who had this to say:
"The militants, be they Taliban or any other militants, who kill children, are the enemies of humanity. This attack is a blot on humanity".