Suspected jihadist recruiters held in Spain and Morocco
Comments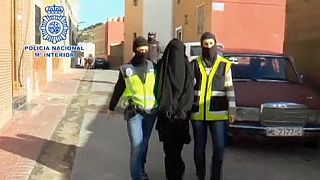 Spanish and Moroccan police have arrested seven people suspected of recruiting women to support extremists from the self-proclaimed Islamic State in Iraq and Syria.
Spain's Interior Ministry says four women and a man were held in the north African enclaves of Ceuta and Melilla, and in Barcelona.
Two men were picked up in the Moroccan town of Fnideq.
Spain's north African enclaves, transit points for migrants heading for Europe, are also areas of high unemployment and school failure.
The government in Madrid, like others in Europe, fears they could become a fertile recruiting ground for jihadists who may then return to launch terrorist attacks on home soil.
Police believe several people reported missing may have left for Iraq or Syria, where ISIL has seized large parts of both Middle Eastern countries imposing a harsh brand of Islamic law.
A series of dawn raids in France on Monday ended with 11 people including one woman being remanded into custody, as part of an inquiry into a jihadist recruitment network for Syria.
Many are said to come from the area around Toulouse. The arrests took place in the Ile-de-France region around Paris, Normandy and the southwest.