Body of US Iraq war veteran suspected of killing six family members discovered in Pennsylvania
Comments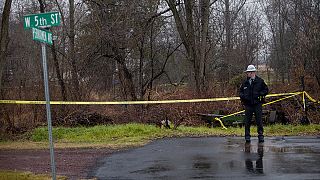 Police in the US searching for an Iraq war veteran suspected of killing six members of his own family in Pennsylvania, say they have found his body.
A district attorney said it was discovered on Tuesday afternoon after a two-day manhunt that resulted in lockdowns and school closures in and around the town of Pennburg, some 80km northwest of Philadelphia.
Thirty-five year-old Bradley William Stone was wanted over the deaths of his ex-wife, her mother, grandmother, sister and two other family members including his 14 year-old niece.
His 17 year-old nephew was seriously wounded and is in hospital.
Sources said the victims had suffered gunshot and stab wounds.
His eight and five year-old daughters were unharmed, as was his current wife and infant child.
Stone had deployed to Iraq in 2002. He left the army in 2011 by honourable discharge but had since suffered post-traumatic stress disorder.
Authorities say he died of "self-inflicted cutting wounds".