Sandy Hook families sue gun manufacturer two years on from mass school shooting
Comments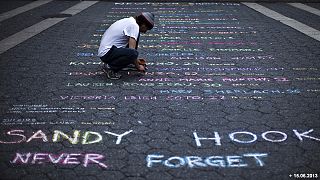 The families of nine of the 26 people killed in the 2012 mass shooting at Sandy Hook Elementary school in the US are suing the maker of the gun used in the attack.
December 14 two years ago a lone gunman shot dead his mother before driving to the school
killing 20 children and six adults.
Adam Lanza
aged 29, took his own life when police arrived on the scene.
The families allege the Bushmaster AR 15 rifle used by Lanza should not have been made publically available because it was designed for military use.
The law suit comes as communities across the US held vigils for all victims of gun violence.
The Sandy Hook tragedy sparked a presidential initiative to beef up=gun control==which had little success due to the influence of America's powerful gun lobby.
The governor of Connecticut did push through stricter gun regulations but other states have rejected new curbs on gun ownership.
Sandy Hook plaintiffs accuse gun manufacturers of taking no responsibility for their products – being indifferent to their customers' training or understanding of the power of the weapons.
The defendants in the lawsuit have offered no comment.