EU war of words with Turkey over arrest of opposition journalists
Comments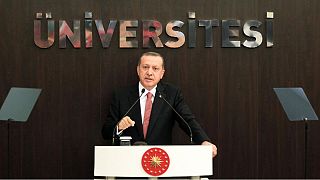 The European Union has clashed with Turkey over the "mass arrest":http://www.euronews.com/2014/12/14/raids-across-turkey-target-media-outlets-linked-to-erdogan-foe-fethullah-gulen-/
on Sunday of opposition journalists for allegedly plotting to seize power.
Problems with freedom of expression and freedom of the press are nothing new in Turkey
At least 24 workers were detained after raids on the Zaman newspaper and the Samanyolu TV channel.
They are said to have close links with Islamic cleric Fethullah Gulen, who lives in self-imposed exile in the US, from where he is accused of running a parallel state within Turkey.
The Turkish President Tayyip Erdogan defended the arrests and rejected EU criticism: 
"The European Union should not seek the authority to intervene in the steps taken by Turkish security forces, within the rule of law, against elements that threaten our national security. They should mind their own business."
But on Monday the EU responded again through the President of the European Parliament, Martin Schulz:
"Problems with freedom of expression and freedom of press are nothing new in Turkey. We were extremely shocked to see the raids against the press in Gezi Park and yesterday once again we saw a new round of raids on media critical of the government. We are very concerned because that seems to be a sign of a very dangerous development that we need to keep a close eye on."
The arrests have not prevented demonstrations against the government's actions taking place, and on Monday protesters remained outside the police headquarters in Istanbul.