Justice For All marchers take to the streets of America's cities to call for better policing
Comments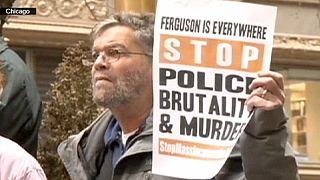 Marches for justice spread out across America's major cities this weekend, and with the exception of Chicago, where police made a number of arrests, all passed off peacefully.
In Washington the Reverend Al Sharpton was joined by families of victims killed by police.
"Look at these thousands of people, they're black, they're white, they're young, they're old. This is what America looks like," he said.
Protesters want to keep up the pressure on the authorities to legislate and place new controls on the police.
In New York, scene of one of the police killings of an unarmed African-American man that proved the catalyst for the protests, his family took the lead of a march through Manhattan which ended up by circling police headquarters.
Boston also saw a large march, and in California crowds filled the streets of Los Angeles to call for police involved in fatalities to be tried, and an independent body to be set up to oversee arrest procedures and police attitudes to race.