Japanese voters go to polls with Prime Minister Shinzo Abe likely to hold onto power
Comments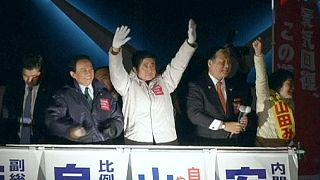 Japanese Prime Minister Shinzo Abe looks set to be re-elected in Sunday's parliamentary elections.
Opinion polls show he is on course for a huge victory despite a fall in popularity.
He took office two years ago promising to revive Japan's stagnant economy but the country went into recession in the second half of this year.
Abe called snap elections saying he wanted a fresh mandate for his economic programme and other policies. If the conservative leader does get back in, he will feel he has the go-ahead to continue with his economic reforms known as Abenomics.
Many analysts were predicting a record low voter turnout.