Freund in World Cup ski jump victory
Comments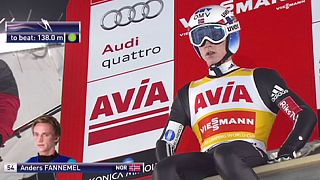 Severin claimed victory in the latest round of the Ski Jumping World Cup in Nizhny Tagil on Sunday.
His win came in the individual large hill event with a jump of 131.5 metres, his style points took his overall score to 145.7
The competition was curtailed to one jump due to high winds. The German's score was enough to see off the challenge of Anders Fannemal who had secured a maiden victory on Saturday.
The Norwegian actually jumped further than Freund with 135 metres but finished with a total of only 143.3. With no second jump he was denied the chance of a double at the Russian resort.
But Fannemal remains top of the season's standing on 430 points, Freund is second 69 points adrift.