Niger PM asks for help to deal with Boko Haram refugee crisis
Comments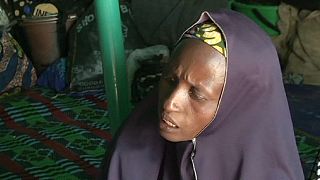 The prime minister of Niger has appealed for international help to confront a looming food crisis compounded by thousands of refugees who have streamed across the border from Nigeria.
They have been sheltering for weeks in Niger after fleeing militant group Boko Haram at the end of November.
Halima Ibrahim explained that the militant group shot her husband then took her two eldest girls, aged 11 and 12.
"I was there with my husband's body and with the children. They selected two of my children. What am I going to do? They left me the two boys, the twins and a daughter," she said.
Halima's sad story is one of many. She fled her home in Nigeria's Borno state and now lives in this makeshift emergency camp.
Boko Haram has ransacked northern Nigeria over the past few years: raiding villages, kidnapping children and seizing territory.
Their operations have increasingly spilled over Nigeria's borders into Niger to the north and Cameroon to the east.
The European Union has just unblocked five million euros to help more than one million Nigerians forced from their homes by the group's insurgency.