Historic slalom win for Sweden's Pietilae-Holmner
Comments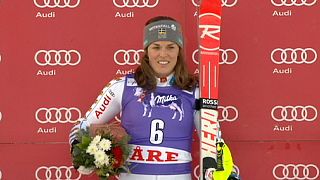 Maria Pietila-Holmner sealed the first win for a Swede in a ladies' Slalom in Are. The combined times of her two runs on home snow led to the historic victory. The 28-year-old completed the win on the second run on Saturday in the World Cup Slalom.
Her last victory dates back to Aspen in 2010. She claimed the win, the third of her career with a combined time of 1:43.65 seconds.
"It's amazing and this means so much to me," she told reporters as she held back tears of joy.
Tina Maze had said she was struggling with jet lag after arriving in Sweden but it didn't seem to affect the Slovenian's skiing too much. She finished the two days skiing with a win on Friday in the giant slalom and second place behind the Swede in the slalom.
Maze was just 0.06 seconds adrift after her two runs but she still leads the overall World Cup standings.
To complete Sweden's historic day. Frida Hansdotter rounded up the podium in third holding on to that place from her first run. She entered the slalom wearing the red bib as the overall leader of the discipline after finishing second in the last three Slalom World Cup races. Her third place keeps her atop the rankings 11 points ahead of Tina Maze.