Demonstration against 'government interference' at Spain's public service broadcaster RTVE
Comments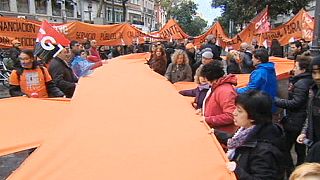 Staff at Spain's public service broadcaster RTVE staged a protest in the capital Madrid on Saturday against alleged government interference.
They accuse Prime Minister Mariano Rajoy's conservative government of tightening its control ahead of elections next year.
One employee said: "We are workers and citizens and people who are defending the public service of RTVE. The Spanish Television as a public service belongs to all citizens."
Staff also called for sufficient public funding and more transparent management.
The International Press Institute – which promotes press freedom – says there are "diverse challenges" to freedom of expression in Spain.