Ukrainian President Poroshenko claims fragile truce is holding
Comments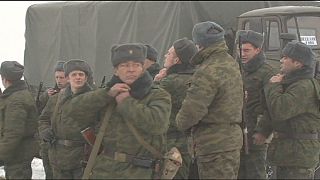 The Ukrainian president Petro Poroshenko has been on a two day visit to Australia.
While there he said a truce in the conflict-ridden east appeared to be holding despite three Ukrainian soldiers having died and eight more wounded in the previous 24 hours.
"This is the first night when I don't have neither lost nor wounded Ukrainan soldiers when we don't have any lost or wounded civilians. This is only 24 hours everything is so fragile, but I pray that we continue with this process," he said.
The separatists claim to have started withdrawing heavy weapons from the frontline in the Donetsk region.
The latest ceasefire was introduced on Tuesday in the hope of ending an eight-month conflict that has claimed more than 4,000 lives