Thousands protest over Nicaragua canal project
Comments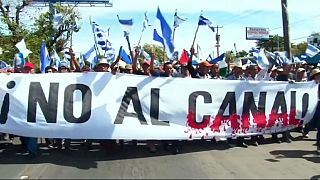 They came in their thousands, angry and anxious over a canal construction project in Nicaragua that many fear will obliterate their homes and livelihoods.
Protesters gathered in Managua to denounce the multi-million euro scheme to link the Atlantic and Pacific Oceans through a waterway across the Central American nation.
President Daniel Ortega and the Chinese firm behind the plan were the focus of
fury over the shipping channel.
Many marching in the capital fear building work will force them to leave their villages, without proper compensation.
"If we let them just move in and displace Nicaraguans who live in the zone where the canal will supposedly be built, no one will have legal protection from then on," said opposition Member of Parliament Eliseo Nunez.
"We don't want the Chinese in Nicaragua because they are coming to interfere in the economy. We are hungry and need to eat," cried Eliezer Medrano, who lives in the Nueva Segovia area where the canal is set to be built.
But anger over state assets being sold and economic and environmental fears are unlikely to stop Latin America's largest infrastructure project, set to rival the mighty Panama Canal – with its formal launch due on December 22.