Hong Kong protest site clearance begins
Comments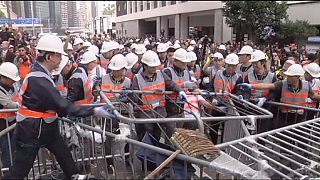 Authorities in Hong Kong began clearing the main protest site there on Thursday morning, warning that pro-democracy activists who fail to disperse will be arrested.
They were largely met with resignation but there was also defiance from students whose street demonstrations have choked parts of the Chinese-controlled city for more than two months.
Many packed up belongings from inside their tents at the Admiralty district next to government buildings and the Central business area.
With pockets of resistance remaining among those demanding free elections, hundreds of police stood by as workers removed barricades, following a court injunction.
Tens of thousands of activists had taken part in these protests but the number has declined sharply – many wondering what if anything has been gained.