Dalai Lama and Pope will not meet during Tibetan spiritual leader's visit to Rome
Comments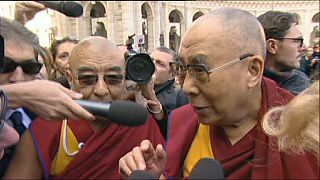 The Dalai Lama has confirmed reports that he will not be meeting Pope Francis during a visit to Rome.
The Tibetan spiritual leader living in exile has arrived in Italy to attend a summit of Nobel Peace Prize Laureates.
Some reports say the Vatican decided not to hold a meeting to avoid antagonising China.
The Dalai Lama told reporters it seemed the Vatican thought a meeting would be a "little inconvenient". But he stressed that he "admired" the Pope.
The Vatican has refused to say if the Dalai Lama was refused a papal audience, but it says a greeting will be sent to the Nobel summit.
Some church officials are quoted as saying the Pope does hold the exiled leader in high esteem, despite the lack of a meeting.
The Catholic church has been attempting to improve its relations with China in recent years.