'Birdman' leads way in Golden Globe Award nominations
Comments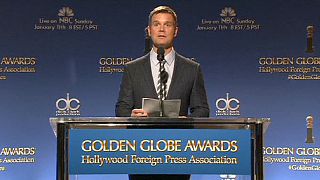 The American black comedy "Birdman" leads the
nominations for the Golden Globes, making it a frontrunner as the awards season gets underway in Hollywood ahead of the Oscars.
The nominations were announced on Thursday by the Hollywood Foreign Press Association. The winners will be revealed on January 11.
"Birdman" is one of five films competing for best comedy or musical, along with "The Grand Budapest Hotel", "Into The Woods", "Pride" and "St Vincent".
The story of an actor attempting a comeback on Broadway, "Birdman" has been praised for its innovative storytelling.
Michael Keaton is also in the running for best comedy or musical actor.
With five nominations, "Boyhood" will be competing in the best drama category, along with "Foxcatcher", "The Imitation Game", "Selma", and "The Theory of Everything".
"Boyhood", the coming-of-age tale filmed with the same actors over 12 years has pleased critics.
Actor and producer Jeremy Piven announced the shortlist for the Best foreign language film: – "Force Majeure Turist," Sweden – "Gett: The Trial of Viviane Amsalem Gett," Israel – "Ida," Poland/Denmark – "Leviathan," Russia – "Tangerines Mandariinid," Estonia
The director of Russia's "Leviathan", Andrei Zvyagintsev, has denied that he intended to confront power with his attack on corruption in the country.
Described as a heavyweight epic, the film was an award-winner for Best Screenplay at the Cannes Film Festival.
The reception was reportedly more lukewarm at the Kremlin, but Russia has still named it as its nominee for the Oscars and the film is partly funded by the Russian Ministry of Culture.