Afghanistan: Suicide bomb blast hits French-run school in Kabul
Comments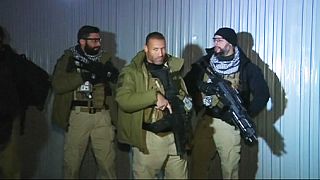 A suicide bomb attack has targeted a French-run high school in the Afghan capital Kabul, killing at least one person.
Hours earlier six Afghan soldiers were killed and 11 wounded when a military bus was attacked on the outskirts of the capital.
Police say the school bomber, believed to be a teenager, detonated explosives at the top of stairs leading to an auditorium which was packed for an event.
It's thought he may have hidden the device in his underwear to pass through security.
The Lycée Esteqlal was heavily guarded by the Afghan army. It also houses the French Cultural Centre and is one of Kabul's oldest and most prestigious high schools.
Earlier this year it staged a debate between Afghanistan's presidential candidates.