'Weather bomb' causes blackouts and transport disruptions in UK
Comments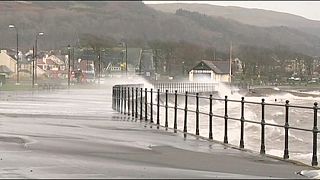 It is being described as a weather bomb that took many by surprise.
Transport was disrupted and thousands of homes had their power cut off in a storm that struck Scotland, Northern Ireland and northern England.
A weather bomb is a phenomenon when pressure inside a storm drops rapidly, boosting its strength.
The bad weather caused ferry and train services to be cancelled and schools to be closed.
High winds and huge waves were recorded in many areas.