Spain: Prosecutors want Princess Cristina cleared of wrongdoing in corruption probe
Comments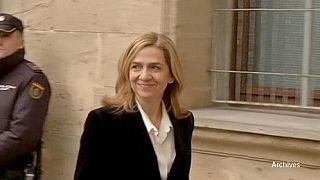 Spanish prosecutors say the king's sister Princess Cristina should be cleared of criminal wrongdoing in a corruption probe.
But they want her husband – former Olympic handball player Inaki Urdangarin – to be jailed for nearly 20 years.
He is alleged to have used his connections to win public contracts to stage events through his non-profit Noos Foundation – while embezzling millions of euros in public funds.
The prosecutor does believe there is a civil case to answer for the princess, accused of benefiting from her husband's alleged crimes, even if she was unaware of the circumstances. She is now set to pay almost 590,000 euros to settle this.
The couple, who have four children, maintain their innocence but the case has damaged the image of the royal family. Along with other high-profile corruption scandals it has eroded Spaniards' faith in their institutions.
Former King Juan Carlos abdicated earlier this year, making way for his son Felipé.