Germans protest against growing 'Islamisation'
Comments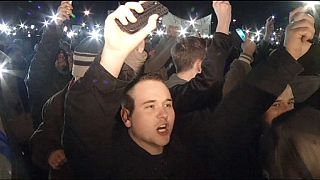 A new type of anti-immigration appears to be taking hold in Germany with protests against what's been called the 'growing Islamisation' of the country.
In Dresden members of PEGIDA or 'Patriotic Europeans against the Islamisation of the West' held a rally against extremism and perceived abuses of Germany's asylum system.
"Political refugees are very welcome. But look at our asylum seekers' homes here. There are only men living there. Where are their families? They are criminals who left their families behind in the war," said one PEGIDA demonstrator.
But critics of PEGIDA who held their own counter demonstration accused the group of drawing support form the far-right Neo-Nazis.
Silvio Lang from the 'Dresden Alliance Without Nazis' said:
"A lot of people do not care. They say why not march as long as we march for a good reason. But I'm worried that it is obviously no longer taboo to stand next to a Nazi at a demo."
PEGIDA says it is not against Muslims in general but wants to preserve the country's Judeo-Christian culture.
Germany is now the second most popular destination for migrants after the US and is struggling to cope with an unprecedented influx of asylum seekers.