Gazprom resumes gas supplies from Russia to Ukraine
Comments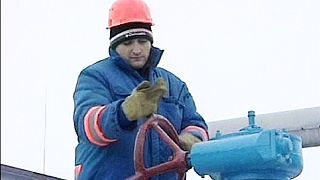 Russian gas producer Gazprom says it has resumed supplies to Ukraine after a six-month suspension over a dispute about prices and unpaid debts.
The announcement confirms an earlier statement by Ukraine's gas transport monopoly, Ukrtransgaz.
Gas flows from Russia to Ukraine were halted in June after Kyiv rejected Gazprom's price rises.
It led to fears elsewhere in Europe that supplies via Ukraine to other countries might be disrupted during the winter.
However, after several rounds of negotiations, Russia, Ukraine and the European Union reached an initial agreement in October over settling Kyiv's unpaid debt and over payment arrangements until next March.
The Ukrainian national gas company Naftogaz said at the weekend that it had made advance payments of over 300 million euros for nearly a billion cubic metres of Russian gas.
Ukraine settled part of its debt in November but the two countries disagree over the total amount owed.
Russia estimates Kyiv's debt to be worth around 4.3 billion euros, but has agreed to submit a disputed 1.8 billion euros to a court of arbitration.