Executive jet crashes into Maryland home killing six
Comments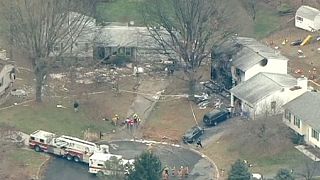 An executive jet has crashed into a house in the US state of Maryland, killing all three people on board the plane and a mother and two children inside the building.
The plane was registered to Michael Rosenberg a professor of epidemiology at the University of North Carolina.
The crash sparked a fire which destroyed two homes.
Witnesses told local media the plane had been circling with the wheels down and looked as if the pilot was struggling for control.
An investigation has been launched.