Ukraine gears up for renewed peace talks
Comments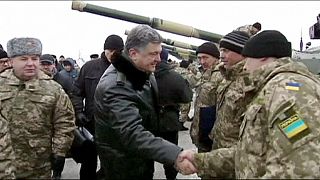 Ukraine faces a crucial week with peace talks between pro-Russian rebels and Kyiv on the horizon for the first time in three months.
Doubts remain about the date. The Ukrainian president announced negotiations could begin on Tuesday as a new ceasefire comes into effect, but the rebels want it scheduled for Friday.
The talks between Ukrainian, Russian and OSCE representatives due to take place in Minsk are set to renew the implementation of the original deal agreed in the Belarussian capital in September.
"We expect that the first and most important point of agreement is a permanent ceasefire. It's only after Tuesday's truce that it will be possible to withdraw heavy weaponry to 15 km from the front line," explained Andriy Lysenko, spokesman for Ukraine's National Security and Defense Council.
"I believe we have to stick to our strategy on renewing control over the occupied third of eastern Ukraine through diplomatic and economic pressure on Russia. This is why meeting in Minsk is one of the steps in this direction," said Yuriy Lutsenko, spokesperson for "Petro Poroshenko Bloc".
The effort to renew negotiations comes after several rounds of failed talks and ceasefires which were routinely violated.
Euronews correspondent Angelina Kariakina in Kyiv explains that, "among other questions, Ukraine continues to demand the handover of all hostages. Pro-Russia separatists want to to get around the economic blockade by selling coal to Ukraine – which Kyiv officially refuses to do, because doing so would mean establishing official relations."