'This cannot go on' - Kerry demands change in Israeli-Palestinian status quo
Comments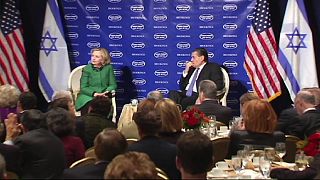 The United States, Israel's main diplomatic ally and arms provider, has delivered a stark message to Tel Aviv.
The status quo between the Israelis and the Palestinians is not sustainable
Speaking in Washington at the annual Saban Forum focussing on relations between the two countries, US Secretary of State John Kerry said that America's commitment to Israel's security remains "iron-clad" but he added:
"The status quo between the Israelis and the Palestinians is not sustainable. And the alternatives to peace are neither acceptable not viable. This cannot go on.
"Too many Israelis have died, too many Palestinians have died, and we have to do everything possible to prevent the loss of more innocent lives and smother the sparks of an immediate tension," Kerry told the forum, hosted by the influential Brookings Institution think tank.
The biggest star of the three-day conference was Hillary Clinton who is widely expected to run for the White House in 2016.
Despite longstanding policy differences over settlement building, she downplayed frictions between President Obama and Israel's premier Benjamin Netanyahu.
"What is important is the continuing institutional support that the United States has given and will continue to give Israel regardless of leadership, the military and security support," she said.
Top US and Israeli leaders always attend the event but this year a government crisis in Israel kept many there at home.
"The forum has shown, once again, that Israel is a major element in American political thinking," said euronews correspondent in Washington, Stefan Grobe.
"And Hillary Clinton's presence was testament to that. Should she run for president and win, Israel would have no bigger friend in the White House."