Italian Coast Guard rescues more migrants in the Mediterranean
Comments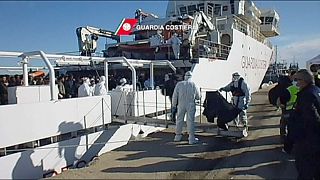 More migrants have been rescued by the Italian Coast Guard in the Mediterranean.
Around 600 have been picked up by several ships, some 200 or more were recovered in Libyan waters and a further 300 off the coast of Calabria.
The rescues were carried out after requests for help from the migrant boats.
This year alone 150,000 migrants mainly from Africa, Syria and Afghanistan have arrived in Italy on unseaworthy boats, risking their lives trying to get Europe.