Huge apartment blaze closes major LA freeways
Comments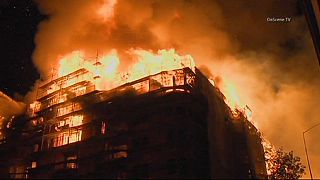 More than 250 firefighters have been battling a huge blaze at an apartment building in Los Angeles, California.
The seven-story building was still under construction so nobody was living there and there were no reported injuries.
Two other buildings were damaged by heat radiation from the fire.
Major motorways had to be closed because of heavy smoke.
Officials said the cause of the blaze was not yet known.
Most of the apartment building burned to the ground but its fire escape remained standing.