Greece passes 2015 budget plan against backdrop of protests
Comments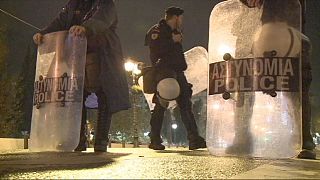 Greece's parliament has narrowly approved next year's budget but it's put the government at odds with both international lenders and anti-austerity protesters.
Disputed growth projection figures has left it defending an optimistic plan.
Prime Minister Antonis Samaras claimed that after many decades, the country had its first balanced budget in decades.
The parliamentary vote came against a backdrop of protests due to five years of rocketing unemployment and shrinking incomes.
There are also opposition demands for early elections which could be triggered by the government losing January's presidential vote .
"Everybody here wants this government out. We would be happy to see a new government capable of controlling the situation and not making things worse every day," said one elderly protester.
Teachers' union leader, Themis Kotsifakis, said:
"The message of this protest is one of resistance to the government's policies. Enough is enough. No more cut backs in pensions, wages, health and education."
But Greece's lenders wanted 1.7 bn euros in additional austerity measures and meet today to decide whether to extend the bailout programme.
"The government may have won the day, but its troubles are far from over, as the Greek parliament very soon will have to elect a new President of the Republic with a required majority of at least 60% of the house vote. However, as that number looks at the moment far beyond the ruling coalition's reach, this budget may well turn out to be its last," concluded euronews reporter Stamatis Giannisis.