Violent clashes at La Scala opening night in Milan
Comments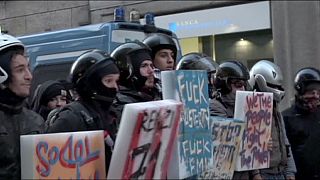 Violence broke out between police and protesters on Sunday at the opening night of La Scala opera season in Milan.
They were protesting against labour reforms approved last week by the Italian parliament which will make it easier for employers to sack workers.
Several people were seriously injured in the scuffles.
The opening night of La Scala is one of the most glittering occasions on Europe's cultural calendar.
Protesters seize the annual event to draw attention to various causes.
Italy's culture minister was in the audience along with IMF chief, Christine Lagarde, but Italy's president and prime minister were not there.