Renewed protests in Mexico as remains of one of missing students identified
Comments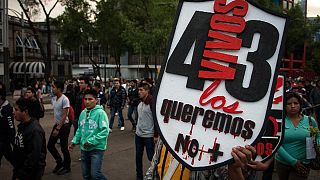 Thousands of people marched through the streets of Mexico City on Saturday calling for justice and for answers after the abduction and feared massacre of 43 student teachers.
On Saturday, officials announced that at least one of the students had been identified from charred remains found near a rubbish dump. Family members named him as Alexander Mora.
Felipe De la Cruz, the father of another missing student and spokesperson for the families told the crowds: "We are not crying for Alexander, on the contrary, we know that his fall will result in the flower of revolution for a deep change in our country. That no matter where he is he should know that the fathers of the families are not going to rest until there is justice."
The students went missing in the town of Iguala in September after they were fired on and detained by police while travelling home from a demonstration. The Mexican government says police handed them over to a drug gang on the orders of the local mayor who wanted to stop them disrupting a speech given by his wife. The couple are amongst more than 70 people who have since been arrested.
Prosecutors say the gang killed them before burning their bodies at a rubbish dump near the town of Cocula and scatterering their ashes in a river.
An Argentine team of forensic experts working on behalf of the relatives.