Judo Grand Slam Tokyo: Final golds of 2014
Comments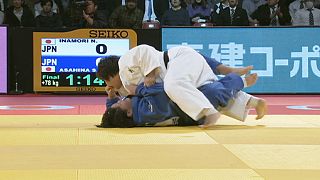 Five gold medals were up for grabs on the third and final day of the Judo Grand Slam in Tokyo – the final IJF tournament of the year.
Reigning Olympic champion Kayla Harrison upset the home crowd when she beat Ruika Sato to win the -78kg title.
The American scored a first advantage one minute into the title fight and despite being penalized for a false attack late on it didn't prevent her reaching the top of the podium.
the Japanese contingent were assured of one gold from the final day's action.
Teammates Nami Inamori and Sarah Asahina battled it out for the +78kg crown.
in a brusiing contest Inamori finally struck gold when she sent her compatriot crashing to the tatami for ippon.
Korean Dong Han Gwak reigned supreme in the men's -90kg division.
Gwak, who won the Jeju Grand Prix last week, beat two-time world silver medallist Daiki Nishiyama of Japan.
The Korean judoka won courtesy of a yuko score – the third highest in the points system.
The South Korean flag was raised for a second time on the last day in Tokyo.
Cho Guham upset the odds to beat highly-fancied and top seeded Frenchman Cyrille Maret to win the -100kg title.
Renat Saidov of Russia beat Georgia's Levani Matiashvili to win the +100 kilo title.
Saidov scored a yuko with a counter attack half way through the fight and finished his opponent off with an immobilisation for ippon.