Typhoon Hagupit threatens huge destruction across the Philippines
Comments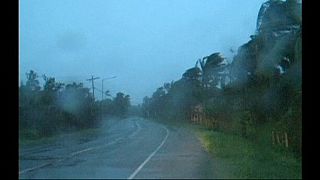 A powerful typhoon has roared into the eastern Philippines.
Lashing rain and strong winds have toppled power lines and brought down trees in areas still recovering from a super typhoon thirteen months ago.
With the Southeast Asian nation still reeling from Typhoon Haiyan that left 7,300 people dead or missing last year, the Philippine military is on full alert.
The US and other foreign countries are ready if the Philippines needs their help.
Around one million people had already evacuated to shelters by the time Typhoon Hagupit made landfall.
A UN agency described it as one of the world's biggest peacetime evacuations.
Although Hagupit is weakening it could still unleash huge destruction.