Calls on Rome administration to step down over corruption allegations.
Comments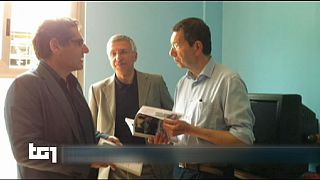 Opposition parties in Rome are calling on the city's ruling administration to step down after a police investigation revealed a web of corrupt dealings between criminals and politicians.
The Mayor of Rome has ordered a review of city contracts over the allegations. Ignazio Marino has denied any involvement himself after a photo was revealed showing him with one of the accused.
"I have never had any working conversation, nor any meeting with the person in the photo", said Marino at a press conference.
So far 37 people have been arrested including the former mayor of Rome, Gianni Alemanno. Italy is ranked as one of the most corrupt countries in Europe according to watchdog Transparency International.
Right wing figures have come under the closest scrutiny but members of Prime Minister Matteo Renzi's Democratic Party are also among the accused.
Renzi said he is shocked by the revelations, which, prosecution lawyers allege, demonstrate how unscrupulous entrepreneurs profited from lucrative public contracts in a city close to bankruptcy.