Ukraine's electricity crisis deepens as a plan to import South African coal collapses.
Comments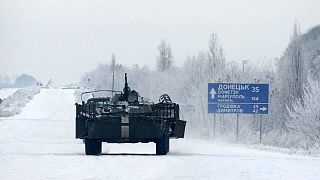 Ukraine's fuel crisis has deepened after a deal to buy South African coal collapsed. The head of a Ukrainian state energy firm has been arrested on suspicion of embezzlement in relation to the deal.
Ukraine's coal mining has been disrupted by separatist conflict, and the the absence of Russian gas imports since June has resulted in country-wide mass electricity cuts. That is why the government turned to South Africa to boost supplies, but the imported coal turned out to be unfit for purpose.
The director of energy firm Ukrinterenergohas been detained by Ukrainian investigators over his involvement in the South African deal.
"Once we can resolve the issue of coal supplies we can achieve a lower price for electricity generation", said Vladimir Demchyshyn, Minister of Fuel and Energy. "We have power stations but we can't use them to their full capacity unless we have enough fuel to run them".
The state electricity distributor has imposed limits on consumption between eight and eleven o clock in the morning and between four and eight in the evening.
Euronews correspondent in Ukraine, Dmytro Polonsky, says that that the government is to bring in mine clearance specialist to make safe the entrance to a railway station at Debaltseve in the troubled eastern region. He says that should result in the release of to 50 000 tonnes of coal to which the government previously had no access.