NYC police union boss praises 'model' chokehold cop
Comments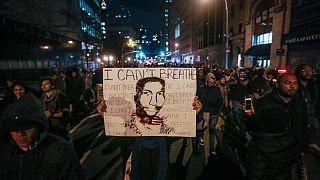 The president of a police union has praised Daniel Pantaleo, the police officer involved in the death of an unarmed black man in New York City, as a "model" officer.
This follows a grand jury's decision not to charge Pantaleo for causing the Eric Garner's death with a chokehold, and comes just a week after another grand jury decided not to indict another white cop who killed another unarmed black man.
"This was a police officer that was sent to that location to do a difficult job. While bringing that person to the ground, yes, they said "we can't breathe" but the police officer and the EMS did what they're supposed to do at that time," explained
Patrick Lynch, President NYC Patrolmen's Benevolent Association.
"If you're speaking, you can breathe. Unfortunately he died for a number of reasons and as the grand jury saw and the medical examiner said it was not a chokehold that killed that person," Lynch added.
The mayor of New York City told a news conference that thousands of patrol officers would get extensive retraining.
As outgage grows, the city's medical examiner has said officers killed the man by compressing his neck and chest, adding that his asthma and obesity contributed to his death.
Although New York City officers are banned from using chokeholds as a method of restraint, the police patrol guide is vague about whether such methods are permitted under certain circumstances, said Maria Haberfeld, who heads the law and criminal justice department at John Jay College.
That grey area, she said, may have influenced the grand jury.