Protests spread across the US as the black community reacts with anger to a court's 'chokehold' decision
Comments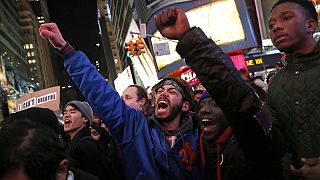 African American communities in the US have been protesting across the country against a justice system that has been described as 'broken' by a key civil rights leader.
The decision by a grand jury in New York not to bring criminal charges over the choking death of Eric Garner while being restrained by a white police officer, is the latest in a series of incidents that has brought black people out on to the streets.
"We want the Justice Department and the federal government to deal with the fact that the grand jury systems at a state level are broken, and seem to lack the capacity to deal with police, when you are dealing with questions of criminality and killings", said Reverend Al Sharpton, President of the National Action Network.
President Obama has largely kept away from what might be seen as interference in an independent judiciary, but as protests gathered momentum he decided to speak out on Thursday:
"When it comes – unfortunately as we have seen in recent days – to our criminal justice system, too many Americans feel deep unfairness when it comes to the gap between our professed ideals, and how laws are applied on a day to day basis."
'We can't breathe' – read one newspaper headline. It is a reference to Eric Garner's choking to death and it is becoming the slogan of a growing protest movement.
The Justice Department has promised a full investigation in to the incident, but with the Garner death being the just latest in a series of deaths involving police and the black community, it might not be enough to assuage people's anger.