Hungary's Santa Factory to bring gifts to 300,000 children in need
Comments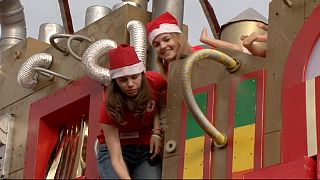 The Budapest Santa Factory opened for donations on December 5. The charity has been collecting toys and clothes every Christmas for the last ten years. This year it wants to give gifts to 300,000 disadvantaged children in and around Hungary.
Around a quarter of Hungarian children live in poor circumstances.
Our correspondent asked several children what they brought to the Santa Claus Factory.
One girl said she brought, "lots of chocolates and books, because I think that poor children can read and enjoy even if they don't have money."
​"I have brought chocolate to please them, and I have also brought scarves and caps so they will not be cold during the winter, and a few toys to enjoy themselves, because Christmas is the feast of love," said a boy at the factory,
In Hungary, hundreds of thousands of children live with in poorly insulated houses with no electricity and no toilet at home.
Euronews correspondent Andrea Hajagos reported from Budapest: ""Of course the Santa Claus Factory does not work on its own. Many volunteers are working behind the scenes selecting and boxing gifts so that they can be sent to those in need."