Germany and UK jail jihadist fighters returning from Syria
Comments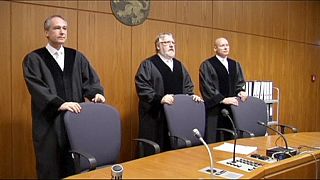 A young German man has been sentenced to three years and nine months in prison for having joined the self-proclaimed Islamic State organisation in Syria.
It came after the first such trial of a home-grown jihadi in Germany.
The 20-year-old – whose full identity has not been revealed – was given a juvenile sentence, as authorised by the law in certain circumstances.
Kreshnik B, who was born in Germany of parents from Kosovo, admitted joining ISIL and receiving weapons training.
The court noted that he had returned to Europe after realising that opponents of President al-Assad's regime were fighting among themselves.
Also on Friday two British men who joined Islamist fighters in Syria were jailed for 12 years and eight months each after admitting terrorism charges.
Nahin Ahmed and Yusuf Sarwar, both 22 years old and from Birmingham, were described by the judge as "fundamentalist who became interested in and deeply committed to violent extremism".
The family of one of the men, pointing out that they had helped police with the investigation, complained that the sentence was too long and would deter others from coming forward.
In a separate trial a third man, Mashudur Choudhury, was jailed for four years for preparing for acts of terrorism in Syria.
The judge said his case did not merit a longer sentence as he was unlikely to remain dangerous.
In several European countries there's concern over the potential threat from jihadis returning home from Iraq and Syria.
In Britain, where the terror threat level has been raised to severe, a bill has gone before parliament including powers to exclude temporarily suspected British fighters from returning to the UK.