Putin attacks West and claims Russia can withstand any challenge in State of Nation speech
Comments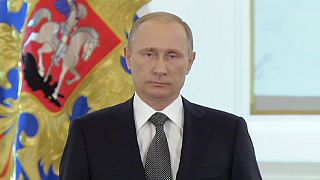 On the face of it Russian President Vladimir Putin gave his annual parliamentary address from a position of unparalleled strength. His popularity is sky-high and any opposition seems to have long since given up protesting.
He slammed the West for its position on Ukraine, yet his policies there have alienated much of the rest of the world.
"Every nation has the sovereign right over his own style of development, over the choice of its allies, its own political, economic, social and security policies. Russia has always respected and will always respect that. And this fully applies to Ukraine," he said.
Yet in almost the same breath he insisted that Ukraine held special significance for Russia which clearly sees it as in a sphere of Moscow influence.
"We will not get into an arms race, which is expensive. No one can militarily dominate Russia. Our army is modern, strong and, as we say today, 'polite', but it is also feared," he continued.
It was a speech long on sticks but short on carrots, with a second half devoted to Russia's current economic woes, for which Putin offered few significant ideas or incentives.