Garcia topples two World Records on opening night in Doha
Comments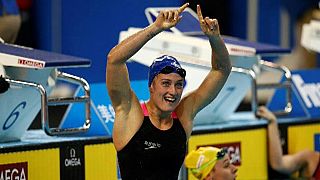 Spain's Mireya Belmonte Garcia set two new World Records in the 200m butterfly and in the 400m Individual Medley on the opening night of the 12th FINA SC World Championships.
Although initially in both events it looked like Hosszu had already bagged the gold medal by the last turn, her lead over the Spaniard was not enough and 24-year-old Garcia made full use of the golden opportunities by finishing with strong back ends.
In the 200m butterfly, she clocked a 1:59.61, becoming the first ever female to swim the event in under two minutes before going a 4:19.86 in the 400m IM half an hour later.
"I wasn't expecting such a performance. It's like a dream… unbelievable. I had an amazing race ," said the double Olympic silver medallist after her World Record setting performance to the AP.
It is expected to be a tough Championship for the recently crowned FINA Swimmer of the Year Hosszu as she intends to pursue a demanding ten event schedule in Doha and questions will undoubtedly be raised if she was perhaps a little too ambitious.
Soon after, the Netherlands closed the first night of finals by setting a new World Record in the women's 4×200m freestyle. The quartet of Inge Dekker, Femke Heemskerk, Ranomi Kromowidjojo and Sharon van Rouwendaal touched first in a time of 7:22.85. China and Australia completed the podium.
Article by Hugo Lowell
Image Credit: WSCDoha